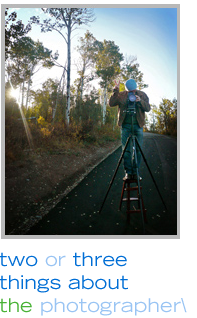 BIO
Born in France, I spent my childhood in a small countryside town near the Loire Valley. My father worked for the French Railways and my mother, after working most of her youth in a factory, stayed home to raise my sister and me. I did not receive a camera at a tender age from a close relative but went on to study Mathematics and Physics at the university for some years.
Sustained by scores of books, films, Zoom magazine and the fashion spreads of Steve Hiett and Guy Bourdin, I later switched to Multi Media in Paris. My first trip to the US, West and Southwest, inspired by the images of Jean Loup Sieff and Bernard Plossu, initiated an enduring attraction for the American desert, roadside architecture, the mystery of abandoned places and the passage of time.
A lot of my personal images are an attempt to keep a trace of these chance encounters with buildings, light, vacant rooms and the objects that inhabit them. Photographing primarily interiors, architecture and gardens, my work is featured regularly in national and international publications, numerous books, as well as architects and interior designers portfolios and web sites.
I now live between Los Angeles and Santa Fe and try to travel as often as possible.

CLIENTS
editorial
Elle Décor House Beautiful New York Times Mag. LA Times Mag. House & Garden Western Interiors & Design Veranda Cottage Living Coastal Living Rizzoli Su Casa Phoenix Home & Garden Luxe Met. Home Sunset Books Sunset Garden Design Budget Travel Monacelli Southern Living Organic Living World of Interiors
architects & designers
Madeline Stuart & Associates Tim Clarke Inc. M Group Katerina Tana Design Kerry Joyce Associates Montalba Architects Inc. Marmol Radziner Turnbull Griffin Haesloop Architects Antonia Hutt & Associates Dan Marty Design Hotel Bel Air KAA Design Group Erin Martin Design Zale Design Slifer Designs Jeffrey Hitchcock Enterprises Rios Clementi Hale Studio Mary Mc Donald Inc.
THANK YOU!
I am my own worst, best and most demanding client...
published books: